Welcome to the homepage for MindGame Productions. Here you will find basic event announceents, links to FAQ and Player Packs for each event.
We have phased out or website forums and moved event discussions to dedicated FaceBook groups. You might wish to sign up on the main MGP Facebook group for general announcements and information, although specific event planning and details will appear in the specific FB groups for each event.
Be sure and read the players packs published for each event as they will contain important information on team structure, radio channels and other event details.
Note that there may be some event additions or date shifts based on securing of interesting new locations during the year.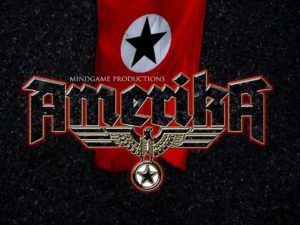 Amerika 8
February 3, 201
Register for game
Download players pack
Download map
$35 online pre-registration / $40 onsite registration
When the D-Day landing fell apart on the beaches of Normandy, the hope of Democracy died alongside tens of thousands of Allied troops. The success of the Third Reich's atomic weapons project halted the Red Army in the radioactive ruins of Poland. Operation Sea Lion ground the British Empire beneath the heel of the Reich. The threat of German atomic bombers over Moscow brought Stalin to sign a ceasefire in 1945. German and Japanese troops landed on the east and west coasts of the United States in 1946, ripping through the broad heartlands with strategic atomic strikes that neutralized massed US resistance. Working feverishly, the Manhattan project was able to complete its work from new facilities in Calgary and the remnants of the United States and Canada detonated atomic weapons against German forces near Colorado Springs and Rapid City. By the time the cease-fire was signed in 1949, all that remained of the United States was a crippled handful of states in the Pacific North-West and along the Canadian border.
Nearly 70 years later, the citizens of chafe under the control of Berlin and the Amerikanisches Reichsgovernor. A new Commander in inbound, the feared Butcher of Birmingham. An SS Colonel who crushed the heart of the resistance in Alabama last summer, newly promoted to Commandant of Atlantic Forces, he aims to gut the Florida resistance at any cost to the population.
Strange Eons – March 3 (Afternooon and night horror apocalypse game)
TBD – April 7
Diamond Dogs II – May 12 (Mercenary conflict in Africa)
TBD – June 16
TBD – July 14
Wasteland! – November 17