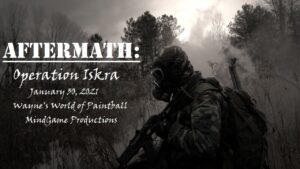 Aftermath: Operation Iskra
January 30, 2021
Wayne's World of Paintball
Ocala, FL
ONLINE REGISTRATION CLOSED / $40 onsite registration
Download Players Pack
Download Map
Online Waiver (valid through March 1, 2021)
The Aftermath series is intended to be a grittier approach to post-apocalyptic airsoft gaming, using a near future milsim dynamic and theme. Operation Iskra is set in the ruins of Eastern Europe after the Twilight War. This devastating world war shattered national governments and saw the deaths of countless millions in nuclear fire, chemical toxins, hunger and disease. Some military units remain operational in the ruins, although they rarely have a chain of command or even a functional government to direct them. Ruthless gangs have moved quickly to fill the lawless power vacuums and rule local fiefdoms of terrified and desperate survivors. A few countries were relatively unscathed in the conflict or suffered minimal damage and are on the road to recovery. But collapsed power grids, satellite and communication network, and savage factional violence in the ravaged lands prevent easy aid or relief efforts.
Cost for advance, online registration is $35. Onsite registration is $40. Take advantage of advance registration. It saves you money and makes the organizers' job easier! Please pay attention to mask requirements, uniform guidelines, weapon and ammo rules! Players should be 16 years of age or older by January 30, 2021 unless cleared in advance.
Key Game Details (see the Players Pack for full details)
Masks and attention to social distancing remain a requirement for this event
Full seal, approved eye-protection required
"Milsim" rules in effect

Mid-cap magazines and semi-automatic fire for riflemen
High-caps, box mags, full auto fire only for support weapons

Radios strongly encouraged
Medic rules in play. All players should bring two (2) ACE bandages or milsim tourniquets
Players bring your own biodegradable ammunition, however there are "maximum load out" rules
Select "show details +" next to each category for a team summary and uniform guidelines.
January 30, 2021




8:00 am - 6:00 pm
Venue Phone: (352) 401-1801
Venue Website: http://www.waynes-world.com/
Address:
4841 South Pine Avenue
,
Ocala
,
Florida
,
34480
,
United States
Description:

Wayne's World of Paintball is an exceptional scenario paintball field in Central Florida and a regular host of MGP events for over 12 years. Remember that magazines must be removed from weapons except for on the field and the designated chrono area. Approved eye-protection must be worn on the field at all times.
Camping IS available near the parking areas. Be sure to contact the field in advance if you plan to arrive after about 5pm or the gates will be locked.
Air tank refills for HPA weapons ARE available in the pro-shop, which typically opens at 9am. If you require air to chrono or if the game has an early start option, you may want to get your tanks filled prior to game day.