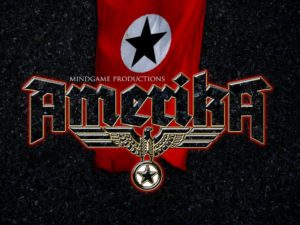 Amerika 10
January 25th, 2020
DV8 Airsoft Field
3399 Gina Trail, Lithia FL
$40 online pre-registration / $50 onsite registration
Download Players Pack
Field Map
MOUT Map
Pre-Registration is now closed! Walk-ons for Resistance and German forces still welcome!
Come join us for the 10th event in MGP's Amerika series! These military simulation events are set in an alternate reality in which America lost WWII and has been an occupied territory of the Reich for over 70 years. Milsim Reich units battle against insurgent Resistance fighters.
For Amerika 10 we're excited to bring the action to a different location for new challenges and player experiences. We're working with DV8 and Black Tiger Airsoft to bring the event to the DV8 Airsoft field in Lithia, Florida. This location offers wooded and open terrain, earthworks and bunkers, a fantastic conex-based urban warfare environment, along with military vehicles. Sign up now to claim your spot in MGP's 10th installment of Amerika and our first game of 2020!
Amerika 10 Pre-Registration


January 25, 2020




8:00 am - 7:00 pm


- Game expected to run until after dark on January 25th. Final ENDEX TBD.
Venue Website: https://www.dv8airsoft.com/
Address:
3399 Gina Trail
,
Lithia
,
Florida
,
33547
,
United States
Description:

Unlike most other airsoft fields, DV8 is operated privately and exclusively for friends of the DV8 team and their guests. DV8 games include military vehicles, indoor close quarters combat in multilevel buildings, and special effects.
​
Located in Lithia, FL, DV8 is easily accessible from both Tampa and Orlando for weekend games, and by the Southeast US for regional events. On site amenities include ample parking, HPA air fills, hot BBQ lunches, airsoft necessities for purchase, and porta-johns.