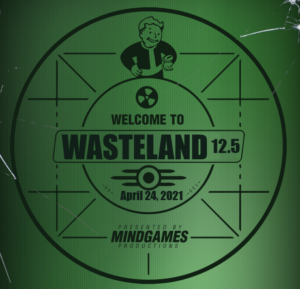 Wasteland12.5
April 24, 2021
Wayne's World of Paintball
Online Registration is closed… but walk-ons welcome!
$35 onsite registration

Download players pack
Complete your online waiver
Welcome back to the Wasteland for our spring installment of this long-running, Fallout-inspired airsoft LARP!
The resettlement of Crystal Springs proved to be a short-lived joy for the Florida wastelands. The detonation of the Garden of Eden Creation Kit (GECK) in the contaminated city a year and a half ago rendered it habitable again. However, the GECK's interaction with Forced Evolutionary Virus (FEV) remnants created a virulent plague that wreaked havoc with trade and settlement efforts. The doctors of the CDC worked hard to contain the virus and their efforts are slowly making a difference. Bands of highly toxic infected still roam the wastes, but the Plague Doctor General speculates that the virus may no longer be a significant threat by the fall.
Critical to the eradication of the plague, is a Super-mutant child caught in the radius of the GECK. It somehow survived the effects of the device, and scientists speculate its altered genetic code offers the key to defeating the virus. The child was last seen in the possession of the Mercenary Guild, but the Guild itself is in turmoil.
The old Matriarch of the Guild disappeared while searching for the Child. Her absence, and the Guild being driven from Fort Destiny by an alliance of wastelanders has triggered a struggle for power within the mercenary company and it appears to be currently scattered and seeking to re-establish its identity.
Mask and Social Distancing Rules
(hang tough guys… we should be on the downslope)
Masks and attention to social distancing is a requirement for this event.

All players must wear cloth masks, paper medical masks or respirators when in the staging and registration areas.

Temperatures will be taken during registration process. Players with a body temp higher than 100 degrees will be asked to leave the event (with refund given).

Cloth masks should be two layers or more (e.g., a doubled gaiter would be acceptable).

Mesh or paintball masks are not acceptable by themselves; a cloth or paper mask must be worn underneath.

Registration will be held under a pop-up shelter. Please maintain 6-10 feet distance between other players/groups.

After picking up lunch (wear masks in line), spread out in staging area and parking lot to eat.

Players may remove masks when eating or hanging out in parking lot (if nearby players don't object)

Players may remove masks when on the field when by themselves or among teammates who don't object.

Players must mask up when entering settlements and when approaching other players.

When in doubt, if someone approaches you wearing a mask or respirator, put on your mask or respirator.

Players who repeatedly violate these rules or refuse to comply will be asked to leave the event.
Wasteland 12.5


April 24, 2021




8:00 am - 6:00 pm
Venue Phone: (352) 401-1801
Venue Website: http://www.waynes-world.com/
Address:
4841 South Pine Avenue
,
Ocala
,
Florida
,
34480
,
United States
Description:

Wayne's World of Paintball is an exceptional scenario paintball field in Central Florida and a regular host of MGP events for over 12 years. Remember that magazines must be removed from weapons except for on the field and the designated chrono area. Approved eye-protection must be worn on the field at all times.
Camping IS available near the parking areas. Be sure to contact the field in advance if you plan to arrive after about 5pm or the gates will be locked.
Air tank refills for HPA weapons ARE available in the pro-shop, which typically opens at 9am. If you require air to chrono or if the game has an early start option, you may want to get your tanks filled prior to game day.